Dungeon issue 18 was released in July/August of It contained the following articles related to the Forgotten Realms: A curse leads to a statue and places. Dungeon Magazine Issue #18 July/August [Barbara G. Young] on Amazon. com. *FREE* shipping on qualifying offers. Dungeon Magazine #18 – Cover Art. Image ~ April 13, March 27, ~ Christopher Smith. Advertisements.
| | |
| --- | --- |
| Author: | Yolmaran Vur |
| Country: | Anguilla |
| Language: | English (Spanish) |
| Genre: | Art |
| Published (Last): | 23 January 2004 |
| Pages: | 197 |
| PDF File Size: | 15.92 Mb |
| ePub File Size: | 6.41 Mb |
| ISBN: | 242-8-26357-662-7 |
| Downloads: | 41333 |
| Price: | Free* [*Free Regsitration Required] |
| Uploader: | Tehn |
These early Dungeons seem rife with the Wall of Text issue. This ends up being distracting and makes it harder to find the important bits during the game. There seems to be this mania to describe ancient history and provide explanations as to WHY something is going on.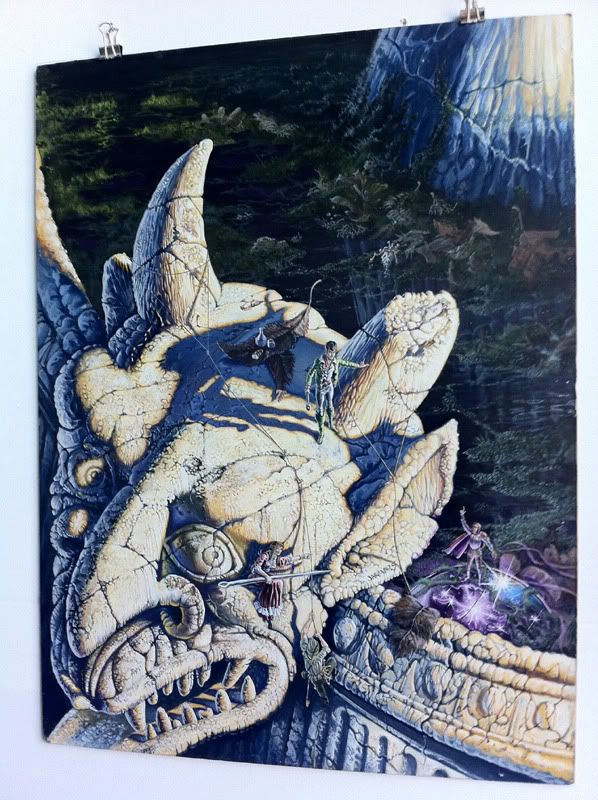 This is a short five room exploration of a wizards lair. It starts by doing everything wrong that I loathe in an adventure hook: While walking through a marketplace the group sees a wizard sitting on a backpack. Then he just disappears, leaving his pack behind. If the characters mess with the pack then the wizard reappears, accuses them of looting his pack, and curses them. If the characters attack him … well … he has 80 bajillion protection spells cast. It seems like this goes on and on and on.
What it does have is a lot of unique little items and decent little scenarios. A secret door behind a staircase?! Things that are NOT from the books, magic items and monsters mostly, help deliver that vibe. This adventure does that. There are, to be sure, monsters and magic items from the books but also more than few that are not.
Healing potions that make you glow blue. A staff with feather fall and light powers, and a 1 helm that face plate that phases in. These are good items, at least compared to the normal book items that infect these early Dungeon Magazines. Magic items should communicate wonder and mystery, not be a victorian-era listing of predictably catalogued powers. A great statue marks the entrance, with a stone slab to be shoved aside.
They are, instead, classics, and I love the classics. The difference is that Greenwood provides enough visual imagery in his writing that the scene comes alive in your mind. The descriptions appeal to all of that deep down buried memory in your mind and dredges it up. The scene comes alive in your mind and you start to fill in detail yourself. This is a short adventure with too much text to do what it tries to do, as was the style at the time.
Greenwood does a good job on the rooms and most of the treasures. This is a hunting expedition in a lake to kill a giant pike that ends with an attack on a marrow lair. The gnomes are mining gemstones on the lake floor with a diving bell, the pike recently showed up and the group is hired to get rid of it. In spite of a large amount of text the gnomes and their village are not really described in any meaningful way.
Just a couple of names and some throw-away text. The lake has a similar problem. The lake portion, along with the map provided, is completely useless, it adds noting beyond the central pretext for the adventure. Or a lake adventure. Or a marrow adventure. Or any monsters or treasures that are not just straight out of the book. For all its size its bland and lacks detail … which seems to the the style of the time. This is a 35 room adventure through a goblin lair.
Miners broke through to the goblin caves, got slaughtered, and a guard party has disappeared. The party is sent in to deal with the puny goblins. A decent amount of the page text is given over to goblin hit-and-run tactics and several of the rooms have a third dimension to them. Both of these are fine additions and something I wish more designers would do.
The third dimension, through ledges, two story rooms, sme-level stairs, and the like, offers both tactical options to the characters and the goblins as well as providing the confusion, or, perhaps, lack of certainty, that I find is critical for keeping players in the dark.
Players want to stamp out all uncertainty and weird mapping works against that, thus contributing to the apprehension that is so critical to setting mood.
This is a tactical adventure, and little else. Some of the traps seem a little forced, aka: The Grimtooth Factor, but are not beyond the realm of possibility for creatures defending their home. Dropping giant centipedes on the characters heads through holes in the ceiling, for example, and similar use of amgazine pests, appeals to me, as does the use of the goblins breaking a dam to flood the party out.
This one is all about that feel of a slog through vietnam war claustrophobia. I like OA adventures. This adventure has the party venturing in to a cursed village to win a bet. For some reason these just strike me as excellent hooks.
Dungeon Magazine #17
Anyway, the group meets a couple of asshole in a inn, neer-do-weels pretending to be travelers. Not the best of hooks, those appeal directly to the players rather than the characters, but still very good. I LOVE the bit about the signpost. There are five or so encounters on the way to the cursed village, but only two are really meaningful.
They do pack a punch though. One is a peasant woman who warns the party to danger ahead … who is actually a ghost … but not a malicious one … unless the party are jerkfaces. A kappa that loves cucumber.
This is one of those great talking animal encounters straight out of folklore. Be nice, put up with it and flatter it and offer it gifts and get off free. Be a jerkface and face the monsters wrath. The cursed village has more good encounters, from a trapped baby tako caught in a bear trap to old mud-covered buildings and dead samurai with warnings, and, of course, the giant crocodiles of the adventure title. The final battle with the crocs could use a little more detail and a little more set-piece build up.
The adventure revolves around an out of the way wayhouse and its surrounding plot of land. Everyone who stays n the area more than 30 minutes get shrunken down.
Dungeon Magazine #17 |
So is a lot of their stuff. It works that way because of magic. Elves walk around and dunteon fireballs. The magzine rat tunnels is one of the 20 and the tunnels might consists of a dozen or so more chambers The net effect is the building up of a kind of miniature world get it!
Or, rather, something that could be faction play with a little work. All of these groups provides a possibility for a depth of play rarely seen in Dungeon. I could go on at length. Goblin rapelling down form the rafters on ropes. Giants cracks in the floor under which live huge rats.
A hidden staircase carved in to a table leg. A foot tall fountain … jerkface gnomes, a grape press for making wine … the miniature world element is not lost nor is it overplayed.
If you were looking for some inspiration and maybe a little project, I dungwon suggest this one. Have you been reading the letters column?
As Gnarley said, with nearly any Greenwood adventure which are usually pretty good just ignore the overlong and detailed backstory and hooks and railroads and just use the meat of the adventure as written. I understand your issue with railroading the adventurers, however, these are only short adventures, designed for the magazine. There are practical reasons for this, such as only being allotted so many pages in a magazine.
These are not designed to be sandbox adventures. The fact that they are short and space limited makes it more absurd for writers to spend time explaining reasons behind things and ways to force the players on the adventure. I just managed to locate a copy of Dungeonthe last print issue and they have a big index of all the adventures they published as well as any highlights.
Crocodile Tears Marcus L. This entry was posted in Dungeon MagazineReviews. January 4, at 4: January 4, at 9: January 6, at 3: November 7, at 1: November 8, at 4: August 5, at 4: February 20, at 4: Leave a Reply Cancel reply. Check out my Freelance Editor link on the black header bar! Proudly powered by WordPress.